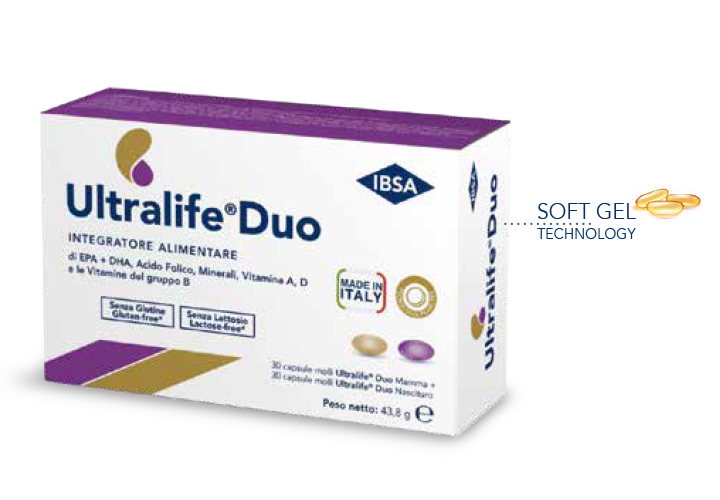 ULTRALIFE® DUO
Ultralife® Duo is a food supplement based on EPA+DHA, folic acid, minerals and vitamins, formulated in softgel. Ultralife® Duo has been specifically formulated for the the pregnant woman and for the breastfeeding.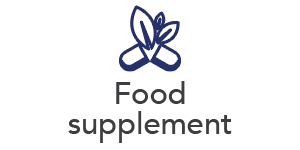 Synergistic action for the health of mother and child, for the pregnant woman, and for the breastfeeding.
EPA + DHA contribute to the maintenance of normal cardiac function in the mother and normal eye development in the fetus and breastfed infants.
Folic acid contributes to the normal growth of maternal tissues in pregnancy and prevents the risk of neural tube development defects in the fetus.
Minerals, such as Iodine, Selenium, Copper, Zinc and Iron essential for the mother and the unborn child (necessary for normal cognitive function of the child, normal function of the immune system, normal protein synthesis and DNA and the process of cell division).
Vitamin A contributes to the normal metabolism of iron and intervenes in the process of cell specialization.
Vitamin D promotes the absorption/utilization of calcium and phosphorus, normal blood calcium levels and the maintenance of normal bones.
B vitamins (B2, B3, B5, B6, B12) contribute to normal energy metabolism, the functioning of the nervous system, and the reduction of fatigue and tiredness.
2 capsules a day, at any rate of the day (gold capsule – mother) and the other for the unborn child (purple capsule – unborn child).
Take with half a glass of water.
Fill out the form</p>
<p>and you will be contacted