COLESIA® Soft Gel
Colesia® is a food supplement based on monacolin (from fermented red rice) phytosterols, hydroxytyrosol (olive polyphenols), fenugreek, and flaxeed oil. Colesia® , formulated in softgel, contributes to triglyceride and cholesterol metabolism and to lipid metabolism.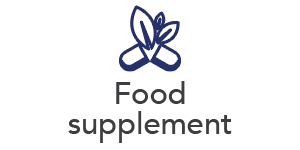 Cholesterol is a fundamental component of our body, important for producing numerous hormones and for the formation of cell membranes. It is produced by our body, especially by the liver, and partly absorbed through food. High blood cholesterol levels are one of the risk factors for the occurrence of cardiovascular diseases, such as heart attack and stroke. This is the reason why it is advisable to keep cholesterol values under control at all times. Colesia® contains Fenugreek, which contributes to triglyceride and cholesterol metabolism.
Colesia® contains flaxseed oil, which contributes to lipid metabolism.
Dietary supplement based on phytosterols, red rice and olive polyphenols, with Fenugreek and Flax Oil.
Dietary supplement with added plant sterols and stanols gluten-free.
| | |
| --- | --- |
| FUNCTIONAL COMPONENTS | PER CAPSULE |
| Sterols and stanols | 400 mg |
| Total Monacolins | 2.8 mg |
| Hydroxytyrosol and tyrosol (polyphenols) | 2.5 mg |
| Flaxseed oil | 20 mg |
| Fenugreek | 20 mg |
It is recommended to take 1 capsule daily for at least 30 days.
Take with half a glass of water.
Fill out the form
and you will be contacted